Command Prompt
OptiTune offers a remote command prompt to any computer managed through OptiTune. The remote command prompt is accessed directly through your web browser, and is supported on all modern browsers.
To use the remote command prompt, from the "Computer Details" page, click on "Command Prompt". Note that the computer will need to be turned on and connected to OptiTune in order for this tool to work.
Once the connection to the remote computer has been established, click on the command prompt area, and type using your keyboard. Press "Enter" to send a command to the remote computer. You can also use your up/down arrow keys to recall previously issued commands. The command prompt output is delivered in real-time through Web sockets, and generally will appear almost instantly.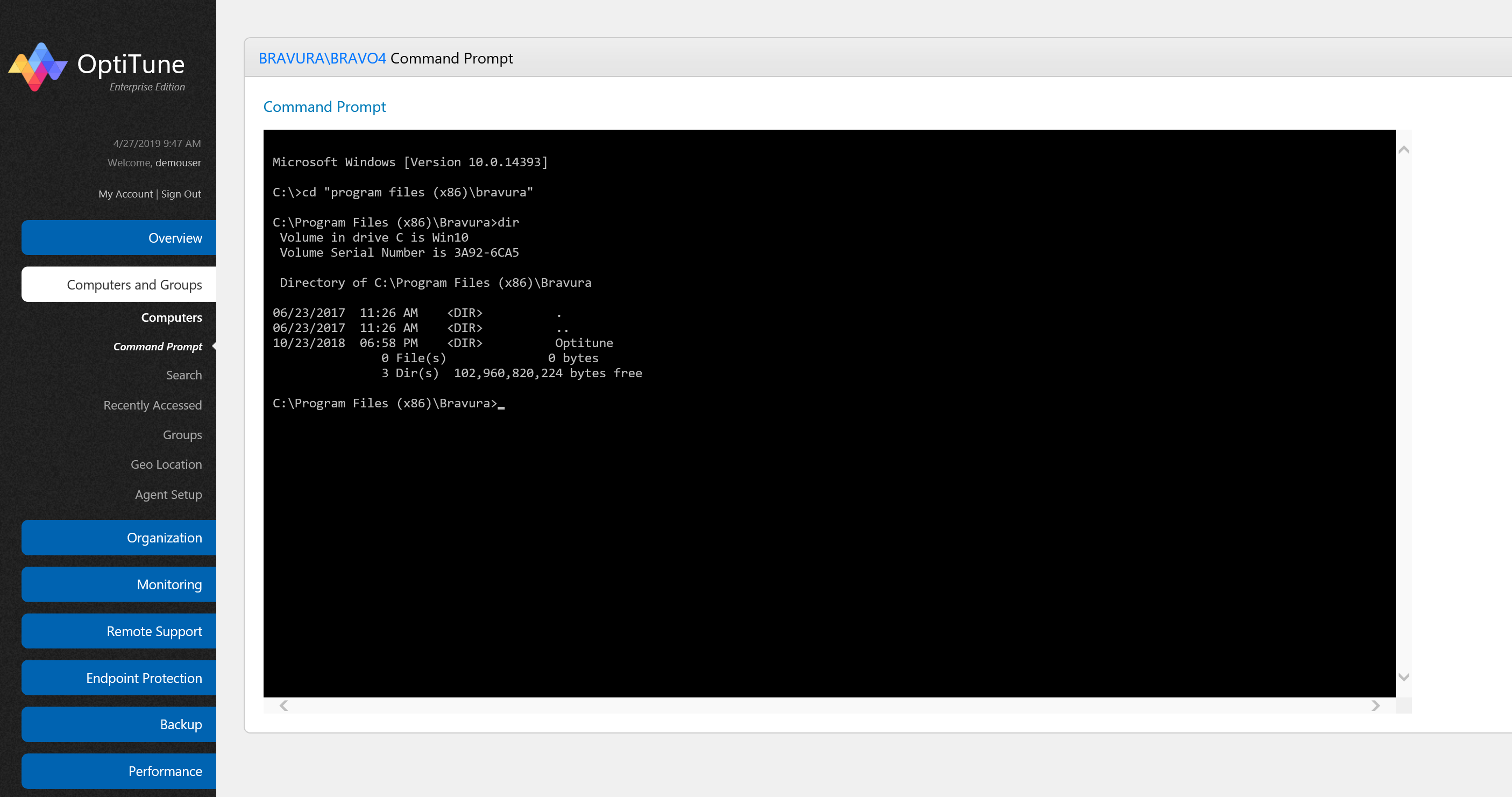 International Keyboard Support
By default, the command prompt will use code page 65001, the UTF8 code page. You may need to call "chcp" with a code page number, depending on your keyboard layout. For example, call "chcp 850" to use the multilingual Latin code page.
See the table below for commonly used code pages.
Commonly Used Codepages
| Code page | Description |
| --- | --- |
| 850 | Multilingual (Latin I) |
| 852 | Slavic (Latin II) |
| 855 | Cyrillic (Russian) |
| 857 | Turkish |
| 860 | Portuguese |
| 861 | Icelandic |
| 863 | Canadian-French |
| 865 | Nordic |
| 866 | Russian |
| 869 | Modern Greek |
| 936 | Chinese |
All Codepages
| Code page | Description |
| --- | --- |
| 037 | IBM EBCDIC US-Canada |
| 437 | OEM United States |
| 500 | IBM EBCDIC International |
| 708 | Arabic (ASMO 708) |
| 709 | Arabic (ASMO-449+, BCON V4) |
| 710 | Arabic - Transparent Arabic |
| 720 | Arabic (Transparent ASMO); Arabic (DOS) |
| 737 | OEM Greek (formerly 437G); Greek (DOS) |
| 775 | OEM Baltic; Baltic (DOS) |
| 850 | OEM Multilingual Latin 1; Western European (DOS) |
| 852 | OEM Latin 2; Central European (DOS) |
| 855 | OEM Cyrillic (primarily Russian) |
| 857 | OEM Turkish; Turkish (DOS) |
| 858 | OEM Multilingual Latin 1 + Euro symbol |
| 860 | OEM Portuguese; Portuguese (DOS) |
| 861 | OEM Icelandic; Icelandic (DOS) |
| 862 | OEM Hebrew; Hebrew (DOS) |
| 863 | OEM French Canadian; French Canadian (DOS) |
| 864 | OEM Arabic; Arabic (864) |
| 865 | OEM Nordic; Nordic (DOS) |
| 866 | OEM Russian; Cyrillic (DOS) |
| 869 | OEM Modern Greek; Greek, Modern (DOS) |
| 870 | IBM EBCDIC Multilingual/ROECE (Latin 2); IBM EBCDIC Multilingual Latin 2 |
| 874 | ANSI/OEM Thai (ISO 8859-11); Thai (Windows) |
| 875 | IBM EBCDIC Greek Modern |
| 932 | ANSI/OEM Japanese; Japanese (Shift-JIS) |
| 936 | ANSI/OEM Simplified Chinese (PRC, Singapore); Chinese Simplified (GB2312) |
| 949 | ANSI/OEM Korean (Unified Hangul Code) |
| 950 | ANSI/OEM Traditional Chinese (Taiwan; Hong Kong SAR, PRC); Chinese Traditional (Big5) |
| 1026 | IBM EBCDIC Turkish (Latin 5) |
| 1047 | IBM EBCDIC Latin 1/Open System |
| 1140 | IBM EBCDIC US-Canada (037 + Euro symbol); IBM EBCDIC (US-Canada-Euro) |
| 1141 | IBM EBCDIC Germany (20273 + Euro symbol); IBM EBCDIC (Germany-Euro) |
| 1142 | IBM EBCDIC Denmark-Norway (20277 + Euro symbol); IBM EBCDIC (Denmark-Norway-Euro) |
| 1143 | IBM EBCDIC Finland-Sweden (20278 + Euro symbol); IBM EBCDIC (Finland-Sweden-Euro) |
| 1144 | IBM EBCDIC Italy (20280 + Euro symbol); IBM EBCDIC (Italy-Euro) |
| 1145 | IBM EBCDIC Latin America-Spain (20284 + Euro symbol); IBM EBCDIC (Spain-Euro) |
| 1146 | IBM EBCDIC United Kingdom (20285 + Euro symbol); IBM EBCDIC (UK-Euro) |
| 1147 | IBM EBCDIC France (20297 + Euro symbol); IBM EBCDIC (France-Euro) |
| 1148 | IBM EBCDIC International (500 + Euro symbol); IBM EBCDIC (International-Euro) |
| 1149 | IBM EBCDIC Icelandic (20871 + Euro symbol); IBM EBCDIC (Icelandic-Euro) |
| 1200 | Unicode UTF-16, little endian byte order (BMP of ISO 10646); available only to managed applications |
| 1201 | Unicode UTF-16, big endian byte order; available only to managed applications |
| 1250 | ANSI Central European; Central European (Windows) |
| 1251 | ANSI Cyrillic; Cyrillic (Windows) |
| 1252 | ANSI Latin 1; Western European (Windows) |
| 1253 | ANSI Greek; Greek (Windows) |
| 1254 | ANSI Turkish; Turkish (Windows) |
| 1255 | ANSI Hebrew; Hebrew (Windows) |
| 1256 | ANSI Arabic; Arabic (Windows) |
| 1257 | ANSI Baltic; Baltic (Windows) |
| 1258 | ANSI/OEM Vietnamese; Vietnamese (Windows) |
| 1361 | Korean (Johab) |
| 10000 | MAC Roman; Western European (Mac) |
| 10001 | Japanese (Mac) |
| 10002 | MAC Traditional Chinese (Big5); Chinese Traditional (Mac) |
| 10003 | Korean (Mac) |
| 10004 | Arabic (Mac) |
| 10005 | Hebrew (Mac) |
| 10006 | (Mac) |
| 10007 | Cyrillic (Mac) |
| 10008 | MAC Simplified Chinese (GB 2312); Chinese Simplified (Mac) |
| 10010 | Romanian (Mac) |
| 10017 | Ukrainian (Mac) |
| 10021 | Thai (Mac) |
| 10029 | MAC Latin 2; Central European (Mac) |
| 10079 | Icelandic (Mac) |
| 10081 | Turkish (Mac) |
| 10082 | Croatian (Mac) |
| 12000 | Unicode UTF-32, little endian byte order; available only to managed applications |
| 12001 | Unicode UTF-32, big endian byte order; available only to managed applications |
| 20000 | CNS Taiwan; Chinese Traditional (CNS) |
| 20001 | TCA Taiwan |
| 20002 | Eten Taiwan; Chinese Traditional (Eten) |
| 20003 | IBM5550 Taiwan |
| 20004 | TeleText Taiwan |
| 20005 | Wang Taiwan |
| 20105 | IA5 (IRV International Alphabet No. 5, 7-bit); Western European (IA5) |
| 20106 | IA5 German (7-bit) |
| 20107 | IA5 Swedish (7-bit) |
| 20108 | IA5 Norwegian (7-bit) |
| 20127 | US-ASCII (7-bit) |
| 20261 | T.61 |
| 20269 | ISO 6937 Non-Spacing Accent |
| 20273 | IBM EBCDIC Germany |
| 20277 | IBM EBCDIC Denmark-Norway |
| 20278 | IBM EBCDIC Finland-Sweden |
| 20280 | IBM EBCDIC Italy |
| 20284 | IBM EBCDIC Latin America-Spain |
| 20285 | IBM EBCDIC United Kingdom |
| 20290 | IBM EBCDIC Japanese Katakana Extended |
| 20297 | IBM EBCDIC France |
| 20420 | IBM EBCDIC Arabic |
| 20423 | IBM EBCDIC Greek |
| 20424 | IBM EBCDIC Hebrew |
| 20833 | IBM EBCDIC Korean Extended |
| 20838 | IBM EBCDIC Thai |
| 20866 | Russian (KOI8-R); Cyrillic (KOI8-R) |
| 20871 | IBM EBCDIC Icelandic |
| 20880 | IBM EBCDIC Cyrillic Russian |
| 20905 | IBM EBCDIC Turkish |
| 20924 | IBM EBCDIC Latin 1/Open System (1047 + Euro symbol) |
| 20932 | Japanese (JIS 0208-1990 and 0212-1990) |
| 20936 | Simplified Chinese (GB2312); Chinese Simplified (GB2312-80) |
| 20949 | Korean Wansung |
| 21025 | IBM EBCDIC Cyrillic Serbian-Bulgarian |
| 21866 | Ukrainian (KOI8-U); Cyrillic (KOI8-U) |
| 28591 | ISO 8859-1 Latin 1; Western European (ISO) |
| 28592 | ISO 8859-2 Central European; Central European (ISO) |
| 28593 | ISO 8859-3 Latin 3 |
| 28594 | ISO 8859-4 Baltic |
| 28595 | ISO 8859-5 Cyrillic |
| 28596 | ISO 8859-6 Arabic |
| 28597 | ISO 8859-7 Greek |
| 28598 | ISO 8859-8 Hebrew; Hebrew (ISO-Visual) |
| 28599 | ISO 8859-9 Turkish |
| 28603 | ISO 8859-13 Estonian |
| 28605 | ISO 8859-15 Latin 9 |
| 29001 | Europa 3 |
| 38598 | ISO 8859-8 Hebrew; Hebrew (ISO-Logical) |
| 50220 | ISO 2022 Japanese with no halfwidth Katakana; Japanese (JIS) |
| 50221 | ISO 2022 Japanese with halfwidth Katakana; Japanese (JIS-Allow 1 byte Kana) |
| 50222 | ISO 2022 Japanese JIS X 0201-1989; Japanese (JIS-Allow 1 byte Kana - SO/SI) |
| 50225 | ISO 2022 Korean |
| 50227 | ISO 2022 Simplified Chinese; Chinese Simplified (ISO 2022) |
| 50229 | Traditional Chinese |
| 50930 | EBCDIC Japanese (Katakana) Extended |
| 50931 | EBCDIC US-Canada and Japanese |
| 50933 | EBCDIC Korean Extended and Korean |
| 50935 | EBCDIC Simplified Chinese Extended and Simplified Chinese |
| 50936 | EBCDIC Simplified Chinese |
| 50937 | EBCDIC US-Canada and Traditional Chinese |
| 50939 | EBCDIC Japanese (Latin) Extended and Japanese |
| 51932 | EUC Japanese |
| 51936 | EUC Simplified Chinese; Chinese Simplified (EUC) |
| 51949 | EUC Korean |
| 51950 | EUC Traditional Chinese |
| 52936 | HZ-GB2312 Simplified Chinese; Chinese Simplified (HZ) |
| 54936 | Windows XP and later: GB18030 Simplified Chinese (4 byte); Chinese Simplified (GB18030) |
| 57002 | ISCII Devanagari |
| 57003 | ISCII Bangla |
| 57004 | ISCII Tamil |
| 57005 | ISCII Telugu |
| 57006 | ISCII Assamese |
| 57007 | ISCII Odia |
| 57008 | ISCII Kannada |
| 57009 | ISCII Malayalam |
| 57010 | ISCII Gujarati |
| 57011 | ISCII Punjabi |
| 65000 | Unicode (UTF-7) |
| 65001 | Unicode (UTF-8) |